Guests online: 3
Members online: 0
There are 0 people chatting right now. Let's go Chat
---
theoldun
hello
Visitor001
@fegor: Try the SB-6510 disk image in Michael Franzens emu.
Visitor001

---
The Sharp Users Club
Welcome to our all new Sharp Users Club website !!!
New lower subscription rates confirmed - only £5. Please support the club!
The main purpose of the website is for the Sharp user community to share information. So if you have some news, please submit an article using the "Submit News" link above.
Club Magazine Archive
-=Special Feature=-



We're proud to annouce the Club Magazine Archive. Ever since it's inception the club's regular magazines have documented useful information, news and program listings that every Sharp owner should know.

Click here to go to the magazine archive and browse these precious records.
Articles: Mini Sharp Machines
Posted by: suc on Friday, January 29, 2016 - 11:52 AM EST
Just before Christmas I commissioned a couple of "Mini Machines" over at Rabbit Engineering on Etsy. They are a little 3D-printed MZ-80K and MZ-80B ... my favourite machines of the Sharp lineup.

They have just arrived, and they are AWESOME. Do check them out. I'd be interested to know if you order any.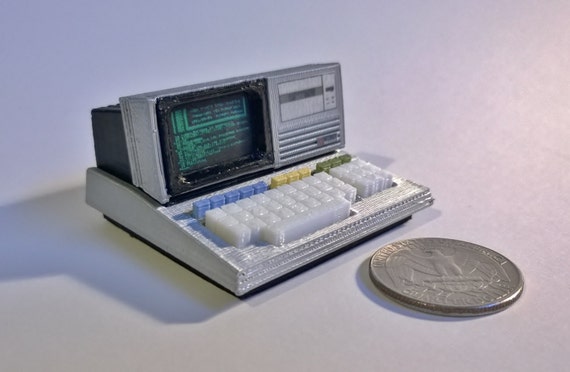 Whilst the image of the MZ-80K on the site has a red monitor enclosure mine has the more authentic black monitor.

To a good home MZ700 and MZ80K
Posted by: rt29781 on Saturday, January 16, 2016 - 06:08 AM EST
Anyone want an MZ700 and MZ80K. Not used for years. Collection from Aberdeen or pay postage.

Please get in touch with Bob at rt 29781 at hotmail dot com (removing the space between rt and the number)


Posted by: Mike on Saturday, March 07, 2015 - 02:29 PM EST

It is with great regret that we announce the death of Maurice Hawes, Sharp Users Club Chief Editor.

Maurice passed away peacefully, after a short illness, on 26th February 2015.

Some of Maurice's early articles can be found in Volume 3, Number 4 of the club magazine which was published in 1983.

With the reorganisation of the club in 1985, Maurice became our Chief Editor and had led the production of the club magazine ever since. With 2, 3 and sometimes 4 magazines produced per year, plus reference guides and indexes this legacy is a testament to his contributions to the Sharp community.

A stalwart member and sheer anchor of the Sharp Users Club who's dedication was crucial in sustaining the club's existence for so many years. We are grateful for the amount of time he devoted to the club's activities. He helped many members, both home and abroad, with hardware and software problems.

Without Maurice's drive the club would not have endured the 35 years since it's inception at Yeovil College in 1980, and he will be deeply missed by his colleagues and friends all over the world.

Our thoughts are with Janet and family.


Articles: Sharp Users Club Shop
Posted by: Mike on Sunday, August 03, 2014 - 05:05 PM EDT
By popular demand (requested in the forum), we have launched the Sharp Users Club shop.


Please visit to support the club; all proceeds go into club coffers.


MZ80K software tapes (Kuma) free to good home
Posted by: Anonymous on Tuesday, November 09, 2010 - 08:45 PM EST
Hi,

I have 9 Kuma Software tapes for the MZ80K which are free to a good home - please save them from landfill. Collect from Hereford or will post at cost.

alun at 100.uk.co (reverse uk and co)

Regards,
Alun


| | |
| --- | --- |
| (702 Reads) | ( ) |
Jul
August 2016
Sep
Sun
Mon
Tue
Wed
Thu
Fri
Sat
1
2
3
4
5
6
7
8
9
10
11
12
13
14
15
16
17
18
19
20
21
22
23
24
25
26
27
28
29
30
31